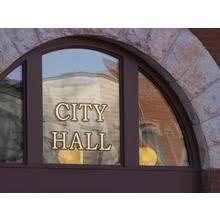 (KNZA)–The Hiawatha City Commission, at its meeting Monday night, heard a funding application from the Brown County Historical Society for funding for the American Rescue Plan Act.
Historical Society director Lynn Allen said the group would like to secure funding for various projects, including improvements to the Memorial Auditorium elevator and repairs to second-floor windows, the elevator and air conditioning. of the Bruning Memorial Building, to repair air conditioning and heating. as well as the roof, at the Hiawatha World office, as well as for work on the windmill and gravel building at the Ag Museum.
Allen said they are still gathering cost estimates for the projects and will submit the list for review once they are obtained.
Commissioner Dave Middendorf, chairing the meeting in the absence of Mayor Bill Collins, said the Commission had decided some time ago what to spend the ARAP funds on, but would consider the group's slate, if not. funds remained.
The Historical Society met with the Brown County Commission last week to also request funds from ARPA.
In other matters, the Commission approved the appointment of Leon Wissman to the Zoning Appeals Board to fill the unexpired term of John Moore, who resigned from the board. The mandate expires in May 2023.