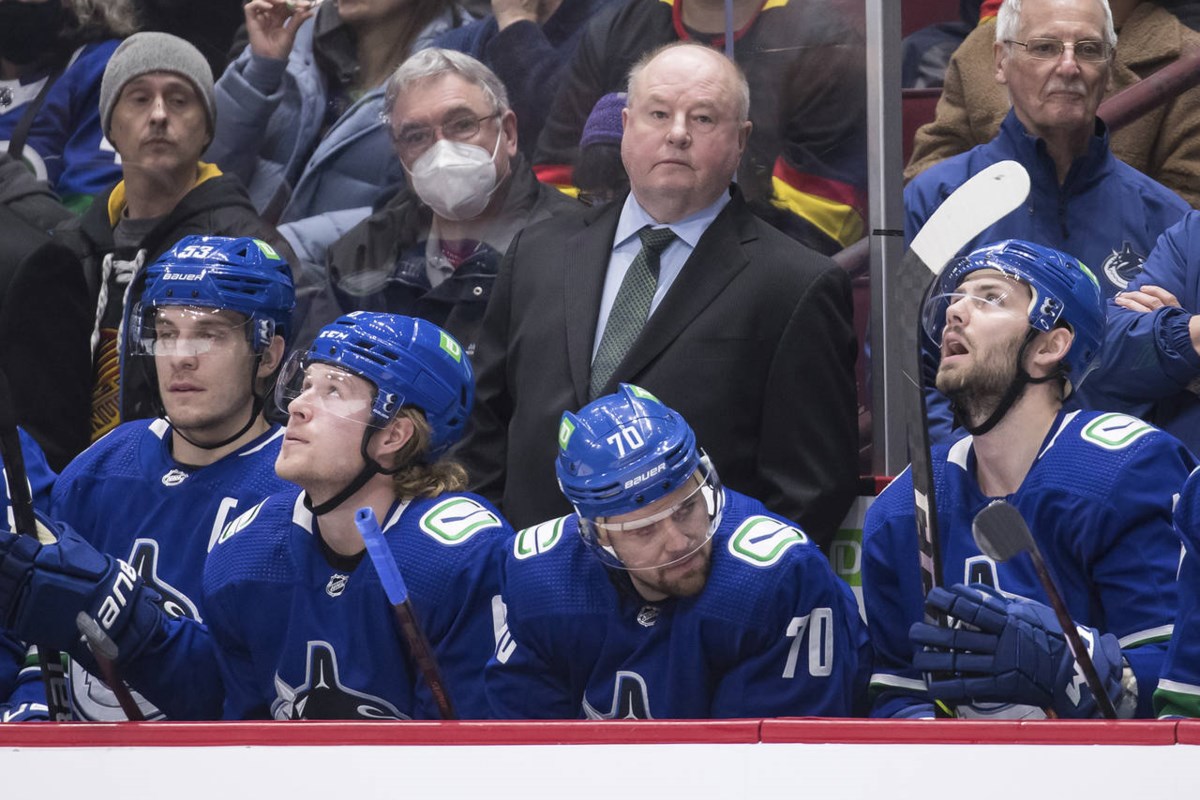 Will Bruce Boudreau be back with the Canucks next season?
There are rumors that Boudreau's future with the Canucks isn't as certain as one might expect.
The Vancouver Canucks' 2021-2022 season came to a head on Dec. 5.
That's when the Canucks fired Jim Benning as general manager and Travis Green as head coach, bringing in Bruce Boudreau. It was an intriguing hire because Boudreau had once saved a struggling franchise, taking the 2007-08 Washington Capitals from the NHL basement to the playoffs when he was brought in after 21 games.
Boudreau wasn't able to repeat that feat — the Canucks are almost guaranteed to miss the playoffs after struggling through March — but he did improve the team. Canucks fans embraced the new bench boss as the Canucks claimed seven straight wins after he was hired, serenading him with chants of "Bruce, this is it."
The Canucks are 24-13-8 so far under Boudreau, which would put them on pace for 102 points over an 82-game full season. While there are still 12 games left this season for that record to change, 102 points isn't just playoff pace, it would be the fifth-most points in franchise history.
It seems obvious Boudreau will be back behind the Canucks bench next season to see if he can replicate or improve on those results if he can coach the team early in training camp.
Except, maybe not.
There have been rumors that Boudreau's return isn't as certain as it seems. NHL insiders have begun to chime in on the matter, suggesting Boudreau may not return.
"Boudreau may not be back next year," Elliotte Friedman said on the 32 Thoughts podcast. "He did an amazing job there…he helped fill that building and bring fans back and create excitement and move them in the right direction, but that doesn't seem like a one-hundred conclusion. percent lost that he will return next season, which I find incredibly hard to believe.
"Jim Rutherford wants to be 100% sure that Bruce Boudreau is his man," John Shannon said on an appearance on Sekeres & Price. "And maybe there's a bit on Bruce's side that he wants to make sure he wants to stay in Vancouver as well."
"I'm just not sure Rutherford and Allvin are the guy they want long term," Jeff Marek said. on Halford & Brough in the morning. " I do not understand. I don't agree with that.
It's important to keep in mind that Boudreau was not hired by Canucks general manager Patrik Allvin or president of hockey operations Jim Rutherford, although Rutherford was consulted on Boudreau's hiring. Boudreau was hired directly by owner Francesco Aquilini.
Most new general managers choose to hire their own head coach, so it would be completely understandable if Allvin and Rutherford wanted to put their own man in place – someone who reflects their ideals and philosophy for leading a team. hockey.
It may not be the most popular move with Canucks fans, who have grown to love Boudreau for both his on-ice results and his personality.
Here's the other side of the coin: it's not entirely the Canucks' decision.
When Boudreau was hired, it was reported that he was on a two-year contract, which meant he wasn't your typical interim coach on a temporary deal. Except it turns out it wasn't really a two-year deal, as Friedman found out.
Boudreau actually has a one-year contract with a second-year option. The Canucks can exercise that option and sign him for a second year, in which case they'll likely want to sign him for a contract extension so he doesn't enter next season as a lame duck coach.
If the Canucks don't exercise that option, Boudreau gets an unknown amount.
Boudreau, however, also has the option of going to the open market. With the way he turned out the Canucks' season, he may well have attracted interest from other NHL teams. If Boudreau exercises that option, he won't get the payout he would get if the Canucks chose not to bring him back.
So the Canucks and Boudreau have to agree to have him back next year. If either party is uncertain, negotiations between them could be very interesting.